RuiWor RW4905 Anti-theft Retractable Cable with Pause Function for Glasses Retail Security Display Holder
Video Display about RW4905 Ratcheting Anti-theft Retractable Cable
RW4905 anti-theft retractable cable has a pause function. It is mainly used for the retail safety display of glasses, which is convenient for installation and disassembly, and effectively improves the retail experience of customers in glasses retail stores.
After the cable is pulled out, the ratchet inside the box will automatically lock the cable. Pull the cable again and it will automatically retract.
The installation is convenient and quick, the box supports both double-sided tape and screw.
Use the small allen key to unscrew the outer lock, put on the glasses, and then tighten the lock.
The outer lock is connected to the glasses, and the inner lock is used for freely adjusting the distance between the glasses and the RW4905 box.
The RW4905 is available in two colors, black and white.
RW4905 Anti-theft Retractable Cable Parameters
| | |
| --- | --- |
| Materials: | Box is made of ABS plastic, with retractable spring built inside and nylon cover stainless steel cable (304 stainless steel, structure 7*7) winding onto the reel inside. |
| Box Size: | 32x31.3x14.2MM |
| Sepcial Function: | Ratchet stop function |
| Box Colors: | Black box/White box for options |
| Available Retracting forces: | 1/4LB |
| Cable Colors: | Clear nylon cover the stainless steel cable |
| Retractable Cable length:  | 93 cm |
| Cable Diameter: | 0.9 mm |
| Installing Way: | Adhesive tape or Screws |
| Cable End Details: | Adjustalbe Lasso Loop End by Metallic Lock Allen Key |
| Gross Weight: | 32G/PC |
RW4905 Anti-theft Retractable Cable Specifications
Remark:
For RW4905 Anti-theft retractable cable, Box color, Cable color, Cable diameter, Cable length,Retract Pull force are can be customized.
If the above RW4905 Anti-theft retractable cable can not meet your requirements, please return to the top and send us an inquiry to discuss more details.
Similar Products to RW4905 Anti-theft Retractable Cable
If above RW4905 Cuboid anti-theft retractable cable is not the best product you need, Following similar Cuboid retractable cable for your reference:
1. The Anti-theft Retractable Cable with same box but different cable ends (Click on the picture to get more product information)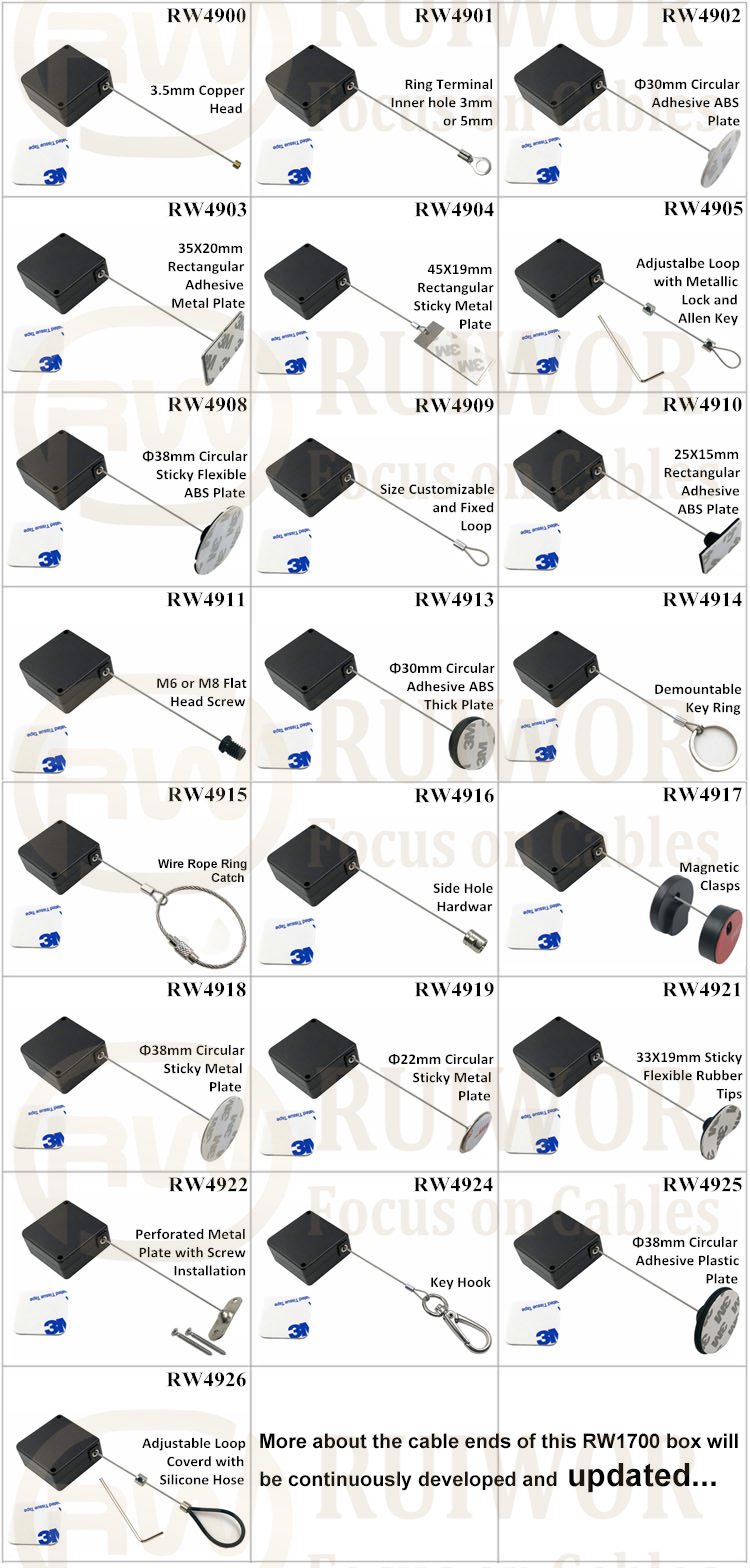 2. The Anti-theft Retractable Cable with same cable ends but different box shapes (Click on the picture to get more product information)